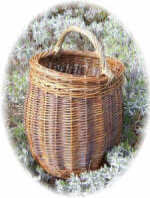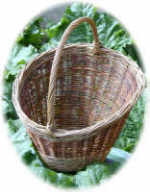 Willow baskets designed and made with a contemporary style
Plant supports and willow sculptures
Basketmaking and chairseating classes and workshops
Demonstrations of basketmaking at craft and country events
Willow and living willow sculpture projects
XXXXXXXXXXXXXXXXXXXXXXXXXXXXXXXXXXXXXXXXX
I make and sell my own work. Whilst I often work in association with other artists and craftspeople, I do not usually sell other makersí work and rarely make goods for the retail trade.
I have moved again since my previous studio is now scheduled for demolition. My new studio, hopefully for a long time to come, is at
The Coach House
Bear Lane
Hare Hatch
Reading
RG10 9XR
I now have lots more dates for classes and am filling up my diary with events over the summer. I still make baskets to sell at events, I take commissions for cane and rush seating, I do repairs to baskets and listing on teapot handles, and I am very happy to give talks and to teach groups at your own venue.
If you would like to be included on my mailing list to receive regular updates about basketmaking courses please email info@stripeybasket.co.uk with subscribe in the subject box.